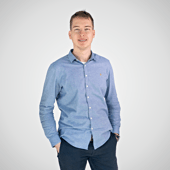 Benjamin
Co-Founder & CEO – People & Culture
Since my youth, I have had a great passion for technology. On weekends, I went gliding and learned the laws of physics firsthand. On bad weather days, we screwed on the planes together with the flying team. Besides flying, I was also enthusiastic about programming. In my spare time, I wrote small Android and web apps.
During my studies at the TU Munich, I was able to use these interests in a meaningful way. During my studies in economics and mechanical engineering, I got to know many aspects of production engineering. Along the way, I worked in a renowned strategy consulting firm. 
Combining technical inventiveness with economic ambition still appeals to me today. Based on this motivation, I founded Operations1 together with Daniel and Anian. At Operations1 I get to work with great, inspiring people to make everyday work in industrial companies easier and more digital. That's what drives me.